CCD Intelligent Oscillating Knife Carving Robot
---Soft \ Hard Take-All Type Material Cutting Expert,
When cutting toughness and flexible materials, we need a rigid cutting machine that can cut both flexible materials and hard materials.
For example, the insulating material of the intermediate composite steel plate, the asbestos gasket, and the thin aluminum plate below 3MM, the imported rubber pad, the foamed PVC and other materials for precise cutting,
Jindex CCD Intelligent Oscillating Knife Carving Robot is your first choice!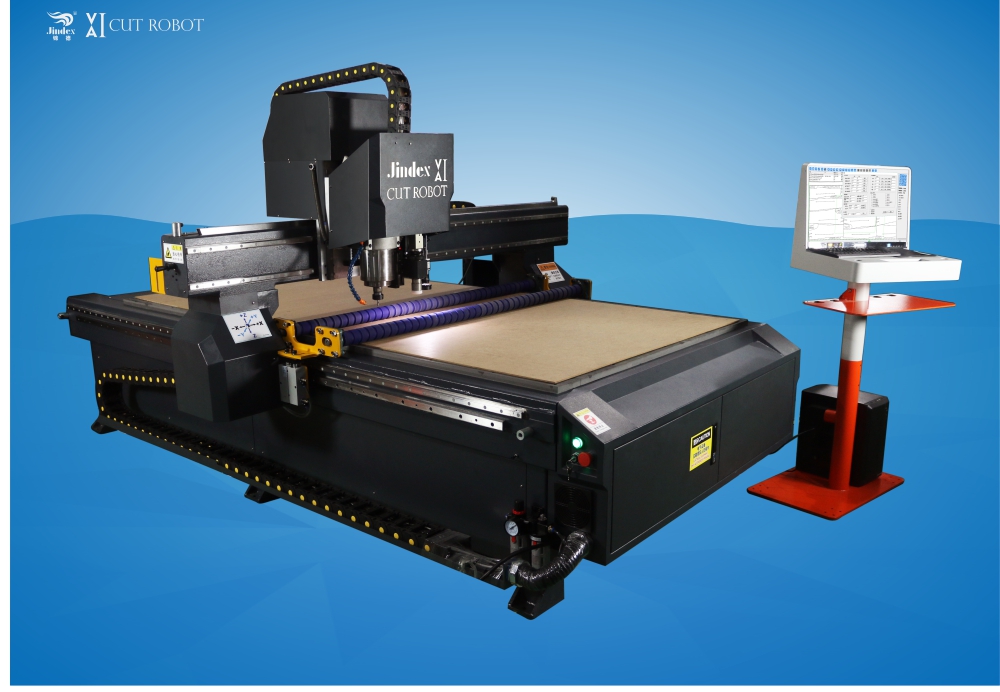 Functions and Special Features
1.For fixed reinforced fixed cutting table, can be used as vibration knife cutting machine, can also be used as engraving machine, various clothing multi-layer acrylic thick template milling cutter cutting, 3mm aluminum template cutting, insulation asbestos material, advertising UV color printing acrylic \KT and chevron CCD visual positioning after edge cutting.
2.The system can be equipped with a high-speed circular knife to cut special flexible materials, such as fiberglass, or replace the vibrating tip knife for harder materials such as asbestos gaskets and rubber.
3.Jindex self-developed CCD oscillating engraving and milling machine tool control systems, The intelligent network port control can control the positioning of the high-speed camera and then perform the engraving and milling cutting while completing the positioning cutting of the vibrating knife or the round knife.In addition, it can be equipped with: punching and cutting , punching round holes and other advanced intelligent actions.
4.The engraving machine uniquely anneals the square steel structure, strengthen and lengthen beam, ensures the rigidity of the machine is enough, and guarantees no deformation for ten years. The machine comes with a rolling pressure roller device, which can roll and cut two layers of acrylic sheets at one time.
5.Powerful software operation, the ability to read HPGL \ DXF \ PDF \ AI format from various industries CAD software output, also support native code cutting, super compatibility.
6.The whole high degree of automation, easy to learn, fit the needs of the industry cutting clothing \ furniture \ ad \ printed \ insulation materials, only a half-day training to learn to get started working.
7.Intelligent high-definition CCD vision positioning camera combined with engraving and milling, vibrating knife cutting technology, it can accurately correct the position angle deviation of the placed material in real time according to the actual size of the inkjet to carry out automatic angle rotation, and then scale the vectorized cutting path before cutting.
8.Independent control card,it can be controlled by connecting the intelligent network port LAN PORT or connecting to a computer.
9.The cutting curve uses a vectorized spline curve to optimize the cutting mode, which ensures high-speed cutting, and makes the cutting smooth and round, ensuring accurate cutting of different curvatures.

10.Use of high strength helical gear rack precision linear guide, good rigidity, high precision and low noise, high-pressure servo-controlled motor and drive system to ensure accurate and high-speed cutting.
11.A large-flow vacuum adsorption device with built-in powerful inverter control, delay start does not affect the power supply. Can be customized for partition adsorption, standard with 8 automatic partition cutting, and equipped with speaker and silencer, even in the quiet office building is no problem.

12.Other combination function modules can be selected, such as four-jet inkjet printing module, combined vibration knife module, or more punching holes and custom-shaped punching modules. Please refer to our knife head configuration table for details.
CCD Intelligent Oscillating Knife Carving Robot

Technical Parameters Standard Table

Technical Parameters/Model

JD-CCD-CNC1325S/H

JD-CCD-CNC1313S/H

JD-CCD-CNC0906S/H

Spindle Power

5.5KW/3KW Water-cooled spindle 24000rpm

3.7KW/3KW

Water-cooled spindle 24000rpm

2.2KW Water-cooled spindle 24000rpm

Precision

±0.02mm(±0.04mm)

Maximum Effective Cutting Speed

18m/min(15m/min)

Fastest Non-Transport Speed

25m/min(18m/min)

Transmission Method

XYZ-axis adopts linear guide rail, XY adopts precision grinding helical rack drive

Motor&Driver

Huichuan pure servo / Reese hybrid servo

Position Method

Infrared laser light or CCD positioning (optional)

Way for Fixing Paper

Vacuum partition adsorption

Vacuum Pump Power

9KW Air Pump

Transmission Interface

Ethernet port

Command System

G Code, NC,HP-GL, GP-GL and IPP-G1 compatible formats

Engraving and Milling Tool

3.175mm, 4mm, 6mm, 8mm, 10mm / 3.175mm, 4mm, 6mm

Oscillation Knife Head

Oscillation Knife Head motor 22000 rpm

Chuck

Er20 or ER16(ER11 or ER16)

Er11 or Er16
Er11

Operating System

Jindex self-development control CCD high version CNC Oscillating knife control system

Use Environment

Temperature: 5 ° C - 40 ° C (when the ambient temperature exceeds 35 ° C) Humidity:<60%

Machine Structure

Steel weld heat treatment effect (5-year guarantee rack without distortion)

Supply Voltage

220V 380V±10% 50-60Hz

Cutting Area

1300x2500mm

1300x1300mm

600x900mm

Appearance Size

1900*2800*1950mm

1900*1600*1950mm

1200*1200*1950mm